Legacy of Copper Fabrication
Storm Power Components originated in 1990 as Signaltek, a manufacturer of custom cable assemblies.  As a manufacturer supporting the telecom and battery industries, the company evolved into more complicated bus and assemblies.
Evolution of the brand over time:
1990-1991          Founded as Signaltek
1991-1995          Storm Manufacturing Corporation
1995-2013          Storm Copper Components Co.
2013-Present     Storm Power Components
Today, Storm Power Components manufactures over 6 million bus bars each year to customers all over the world.  The industries we support range from telecom and generators to radar systems and aerospace.
We've built a culture of excellence and take great pride in manufacturing only the best and most reliable components.
In-house Electroplating Lines
Tin, Silver, Nickel, Lead
Aluminum Bus Bar Plating
In-house Epoxy Powder Coating
Fluidized Beds

Parts up to 8 ft long
Up to 150 mils thick

Electrostatic Spray
Inventory/Shipping
Over 250 different sizes of Copper Bar, Alum Bar, Sheet, Coil, Rod
Stock and Release area dedicated to over 500k parts/ year
Process over 6 million lbs/year
Over 6 million bus bars produced annually
Laminated and Multi-layer Bus Bar Department
Dedicated Clean Room
Hi-Pot Testing
Partial Discharge Testing
Insulation Resistance Testing
Engineering Support for Power Electronic Distribution.
Fabrication Equipment
Fiber Laser with 20' bed
Waterjet
CNC Mills, Lathes, Screw Machine
High Volume Stamping
High Volume Punching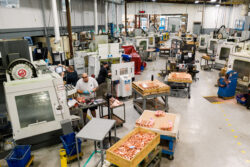 We are proud to be an Equal Employment Opportunity and Affirmative Action employer.