Insulated Copper Bus Bars
Insulated copper bus bar is used to create improved grounding for switchgear, switchboards, and busway (or bus duct) installations. Also referred to as a solid insulated system (SIS), insulated copper bus bars are manufactured from solid copper or aluminum conductors, which have a solid insulating medium between each phase conductor and ground.
Designed to operate at phase potential, insulated copper bus bars are the power component of choice in applications ranging from transformer bushing connections to underground mining power distribution.  The use of insulated copper conductors can enhance your design by minimizing circuit footprints and reducing turning radii while eliminating creepage and clearance issues, resulting in more watts with less space.
Your installation will also benefit from improved:
Safety - By reducing chance of harm to personnel.
Reliability - By reducing chances of flashover and short circuits that cause damage to equipment and costly outages.  A practical example would be the reduction in fault events as a result of wildlife crossing the phases.
Protection - Of conductors in industrial facilities with high amounts of trace materials like oils, sawdust, moisture, and caustic materials.
Reduced Impedance - From surface corrosion and defects
Efficient Bus bar Insulation Comes in Various Options, Including:  Epoxy Powder Coating, Laminated Bus Grounding & Flexible, Insulated Copper Bus Bar
Because of the high-ampacity, low-voltage drop and resilience to environmental factors, insulated copper bus bars are widely used in feeders to large motors in the following applications:
Chemical Processing Plants
Drilling Operations
Light Rail Transit
Machine & Mining Equipment
Pipeline Pumping
Paper Mills
Need Design Assistance?
Do you need a little help combating voltage drop? Have you found a solution to ampacity de-ratings of parallel runs for conventional cable systems? The engineers of Team Storm have the know-how and infield experience to help. We're familiar with how to achieve high ampacity with very little voltage drop. We know a small amount of voltage drop that still complies with NEC requirements can wreak havoc on large constant MVA loads—and drive up operating costs.
We Stock What You Need
When you choose Storm, you're making the choice to experience reliability and production efficiency. Not only do we fabricate and finish the electrical power component on site, the expertise within our materials sourcing team ensures that the copper, insulation, and hardware needed for your component are right on premises, and ready to go.
Copper Material - 450+ sizes and shapes of standard and metric copper available
Ceramic & Standoff Insulators - Because we stock thousands of insulators the team in our kitting and assembly department can unitize, pack, and ship the completed insulated copper bus bars directly to your installation site or your centralized store. Your new insulated copper power component will arrive with the integrity your specifications require and ready to install just when you need it.
Insulation & Coatings - Our solid insulation materials are sourced from top-notch suppliers and are made with the highest industry standards in mind.
Learn more about Insulated Bus Bar Options by downloading Storm's FREE PDFs...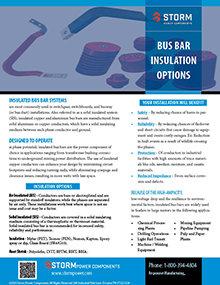 Bus Bar Insulation Options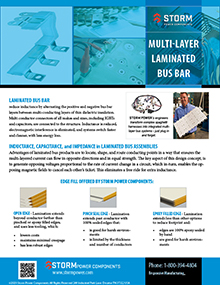 Laminated Multi-Layer Bus Bar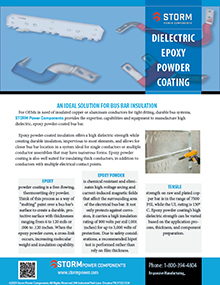 Dielectric Insulated Bus Bar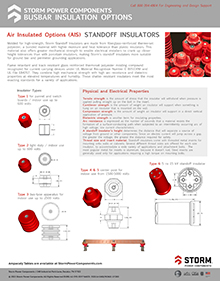 Polyester Standoff Insulators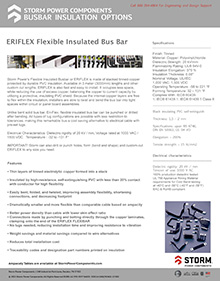 Flexible Insulated Bus Bar