Low Voltage Bus bar for Switchgear
With control panels, it can be difficult to route low voltage and line voltage conductors in conformance with the National Electric Code. By using custom switchgear bus bar systems, line voltage overcurrent protection and switching requirements within control panels can be easily met, providing a clean and reliable installation.
Switchgear bus bars deliver the power from the incoming feeders to all the branch overcurrent protection circuits within your installation. When a circuit breaker or switch retrofit is required for your application, custom-designed switchgear bus bars may be used for easy installation of newer breaker frame sizes, switches, solid-state trip units, or other custom overcurrent protection.
Low Voltage Switchgear bus bar (or just switchgear or panelboard bus bar) are used in panelboards, switchboards, switchgear, splitters, and all other electrical enclosures and cabinets as the method to carry the current between the incoming conductors and branch circuit breakers.
Storm Power Components provides custom-designed switchgear bus bar products useful for the following scenarios:
High ambient temperature installations – For distribution switchboards and panelboards in high-temperature applications such as smelters, refineries, and chemical processing plants, higher-rated bus bar may be necessary to meet the demands of higher operating temperature.
Circuit breaker / Contactor installs and retrofits – When you have circuit breakers or motor starter installations across multiple manufacturers (OEMs) and compatibility issues arise for mounting hardware, custom-designed bus bars are an absolute must.
Digital Service Metering – Where you have a commercial or residential digital tenant metering system, a custom switchgear bus bar system can provide easy mounting for individual branch circuit current transformers.
Instrument transformer mounting and connections – By taking the bus bar geometry into account, mounting and connecting panel and switchboard instrument transformers can be done more reliably and with easier access for future tap changes.
Modular Shrouds and custom DIN rail mounting – Control cabinets are often plagued with stray conductors and difficult mounting situations. By designing the bus bar to custom fit the panels, mounting, troubleshooting, commissioning, and eventual operation becomes much easier for you and your clients.
Where your installations are in harsh operating conditions, you may also consider dielectric finishing. We provide fully insulated bus bars to help reduce install footprint, as well as electroplating to help reduce surface corrosion. By utilizing dielectric and plated finishes, you can be sure of the reliability and safety of your system.
The exact part you need, with the quality you expect.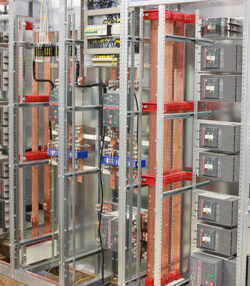 When you use Storm for your bus bar needs, you're choosing experience, reliability, and production efficiency. We fabricate all our bus bar components in house, which allows us to accommodate any and all breaker hardware, current transformer mounting, and potential transformer termination.
We're versed in NEC requirements for the bus bar. All of our switchgear bus bars conforms to NEMA and ANSI Standards. Testing conducted following the IEC 61641 standard "Enclosed low-voltage switchgear and control gear assemblies" provides assurances of protection from arcing due to internal bus faults.
Trust Storm manufacturers to provide the necessary flexibility for your branch overcurrent protection, switching, and instrument transformer needs, and deliver a component that will pass inspection - exactly when you need it.
Design Tips for Low Voltage Switchgear Bus bar
While we can provide any bus bar system you may require, the following are some considerations that should be discussed with our engineers.
Breaker mounting hardware: Are you providing custom-built panelboards or switchboards to new or existing installations? By providing the mounting hardware needs, you can be sure our product will conform to your application.
Potential Transformer and Current Transformer parameters: Do you find that access to instrument transformers becomes very difficult post-commissioning? By designing the bus bar system to the exact needs of the protection and control equipment, ensuring proper connections and accessibility is vastly improved.
Harsh environments: Are you distributing power in an industrial plant, chemical processing facility, or even just outdoors? NEMA rated enclosures still can have bus bar exposure to external effects. Having properly designed bus bars provides assurance of reliability and safety within your distribution system.
Control panel line voltage overcurrent protection: Do you have control panels with a large amount of line voltage overcurrent protection and switching? By mounting custom panel bus bar in a partition alongside DIN rail control mounting, panel wiring and management becomes infinitely easier.