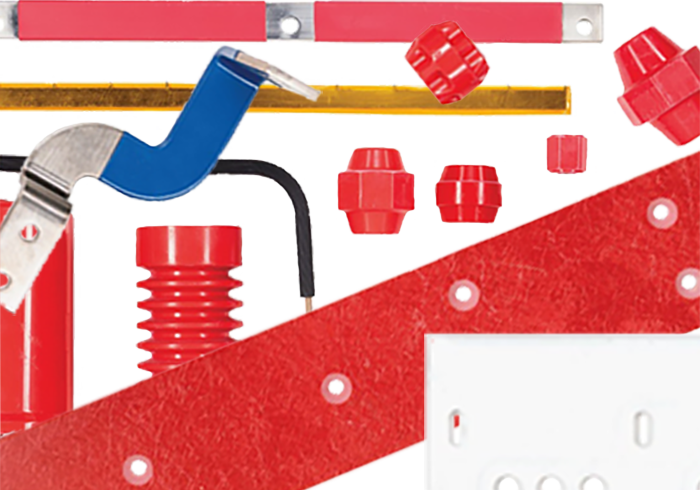 Air Insulated (AIS) - Conductors are bare or electroplated and are supported by standoff insulators, while the phases are separated by air only.
Solid Insulated (SIS) - Conductors are covered in a solid insulating medium consisting of a thermoplastic or thermoset material.
Heat Shrink - Polyolefin, LVIT, BPTM, BBIT, BBI-A.
Insulation - Mylar (PET), Teonex (PEN), Tedlar, Nomex, Kapton, Epoxy spray or dip, Glass Board (FR4/G10).
INSULATED BUS BAR SYSTEMS
are most commonly used in switchgear, switchboards, and busway (or bus duct) installations. Also referred to as a solid insulated system (SIS), insulated copper and aluminum bus bars are manufactured from solid aluminum or copper conductors, which have a solid insulating medium between each phase conductor and ground.
DESIGNED TO OPERATE
at phase potential, insulated bus bars are the power component of choice in applications ranging from transformer bushing connections to underground mining power distribution. The use of insulated copper conductors can enhance your design by minimizing circuit footprints and reducing turning radii, while eliminating creepage and clearance issues, resulting in more watts with less space.
YOUR INSTALLATION WILL BENEFIT FOR...
Safety - By reducing chance of harm to personnel.
Reliability - By reducing chances of flashover and short circuits that cause damage to equipment and create costly outages.
Ex: Reduction in fault events as a result of wildlife crossing the phases.
Protection - Of conductors in industrial facilities with high amounts of trace materials like oils, sawdust, moisture, and caustic materials.
Reduced Impedance - From surface corrosion and defects.