Battery Bus Bar, Posts & Straps
Storm Power cut its teeth in the electrical connector manufacturing business with the production of battery bus bars, connectors, posts, and straps. Over the years, we've mastered the intricacies of producing these critical component parts. Today, we offer numerous production methods, based on the connector design and the order quantity, and use CNC technology-based equipment to streamline battery bus bar production from start to finish.
PROTECTION AGAINST SYSTEM FAILURE
Custom-fabricated battery bus bars electrically inter-connect a range of battery cells. You'll find our battery connectors in a variety of applications too, from hybrid and electric vehicles, to your local central telephone office, in nearly every aspect of our lives these components help keep electricity flowing.
You can trust our expertly crafted custom components to meet the strictest quality requirements for inclusion in your emergency lighting units, uninterruptible power supplies, continuous process systems, operating controls, switch-gear components, and protective relays.
And because the more current you need, the bigger the connector you need, we custom manufacture battery connectors, straps, and posts in a variety of sizes for both single- and multiple-post batteries in the following applications:
Flooded Batteries (wet): lead-calcium, lead-antimony
Valve Regulated Lead-acid, VRLA (sealed): lead-calcium, lead-antimony-selenium
Absorbed Glass Matte (AGM)
Gel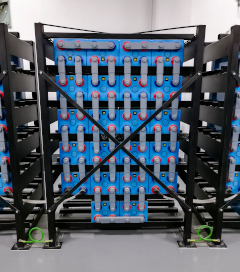 BATTERY BUS BAR ELECTROPLATING IN MANY FINISHES
We know how to achieve the plating your component needs. Minimize extended lead times and reduce costs of battery connectors using our onsite electroplating services. We offer tin and tin-lead alloy electroplating battery bus bars, as well as pure-lead connectors.
Linking stationary battery cells into a battery string of the appropriate voltage and ampacity is the primary purpose of a custom battery connector, so whether you need 10 or 10,000,000 battery connectors, don't worry: We can handle it. Because we don't have setup fees for plating services, we're the right-size electrical components manufacturer for customers who need both small runs and mega-high-volume orders.