Dielectric Finishing -
a.k.a.

Epoxy Powder Coated Insulation
Why epoxy powder coating is an ideal solution for bus bar insulation
For OEMs in need of insulated copper or aluminum conductors for tight-fitting, durable bus systems, Storm Power Components provides the expertise, capabilities, and equipment to manufacture high dielectric, epoxy powder-coated bus bar.
Epoxy Powder Coated Insulation offers a high dielectric strength while creating durable insulation, impervious to most elements, and allows for closer bus bar location in a system ideal for single conductors or multiple conductor assemblies that may have numerous forms. Epoxy powder coating is also suited for insulating thick conductors, in addition to conductors with multiple electrical contact points.
About the material used in dielectric finishing...
Epoxy powder coating is a free-flowing, thermosetting dry powder. Think of this process as a way of "melting" paint over a bus bar's surface to create a durable, protective surface with thickness ranging from 6 to 120 mils or .006 to .120 inches. When the epoxy powder cures, a cross-link occurs increasing molecular weight and insulation capability.
Epoxy powder is chemical resistant and one of the oldest powder paints used in the electronics industry. It not only protects against corrosion but carries a high insulation rating of 800 volts per mil (.001 inches) at a minimum of 10 mil (.010 inches). Due to safety considerations, it is recommended that a Hipot test is performed rather than rely on film thickness.
Tensile strength on raw and plated copper bar is in the range of 7500 PSI. UL rating is 130 Cº. Epoxy powder coating's high dielectric strength can be varied based on the application process, thickness, and component preparation.
After you have tackled the operating environment and geometry necessary, you will want to consider power requirements to complete your design. Our team inside the Insulation and Coating center can produce the best part at the greatest value.
Industry Applications
Electrogalvanizing
Power Generation
Rapid Transit
Sub Stations
Switchgear
Transformers, and more...
Electrostatic (Dielectric) Powder Coating Applied to Connectors Manufactured by Storm Power Components
Storm Power Strives to Maintain a Smooth Surface and Clean Edge Even on Thick Applications of Dielectric Powder Coating
Storm Power Components performs both fluidized bed and electrostatic spray methods in an assortment of colors.
Paint Color and Process Method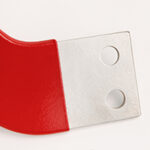 Once the color is chosen, Storm conducts four component preparation processes prior to applying the powder coating:
Cleaning - Storm's bare or plated copper bar has already gone through a vigorous multi-step cleaning cycle. Yet, we conduct a final cleaning process prior to coating to remove all contaminants.
Edge Conditioning - Finished edges and burr removal promote uniform epoxy powder coating for consistent dielectric strength, and may include hand sanding, small part tumbling, and if required, a machined radius.
Masking - Surfaces that do not require powder coating are masked with high temperature tape. Masking is applied to each location and remains on the part until after the curing cycle. Location of the mask is a manual operation, and a liberal tolerance is recommended. If location is critical, a line will be scribed on the conductor for more precise positioning.
Pre-Heating - Storm preheats bus bars and other copper parts to enable the epoxy powder to melt, creating a sticky film that picks up more powder, quickly and evenly.
Epoxy Powder-Coat Applications - Electrostatic Spray or Fluidized Bed?
The choice between electrostatic spraying or fluidized bed powder coated is determined by the dielectric strength of a custom copper or aluminum bus bar. The general rule of thumb is that high-voltage bar should be fluid dipped to achieve a thickness greater than .12 inches. Size and shape also play a part. Bus bars or other components with flat, open geometry are more suitable for spraying, while components with turns and bends are better suited for fluidized bed powder coating.
Electrostatic Spray
Before the epoxy powder is sprayed onto the part, Storm conducts a set up procedure to determine the amount of powder deposited, which is controlled by voltage, airflow and powder flow. Next, this electrostatic system imparts a negative electric charge on the powder to deposit it onto the component that has been grounded.
Bus bars are then placed in Storm's curing oven that has the capacity to handle parts up to 12' in length. As the thermo-set powder is heated, it begins to melt and flow out, enabling it to form a higher molecular weight polymer fusing both to itself and the substrate.
Fluidized Bed
Epoxy powder is suspended by air that is pumped into a sealed chamber and through a porous plate into an aerated hopper where the powder floats in a fluidized state.
Then, heated copper connectors are lowered into the hopper, causing the powder to adhere to the surface and then flow out. This creates a smooth, durable and continuous epoxy coating that is thicker than the coating on sprayed copper components.
As with sprayed components, coated parts are sent to a curing oven.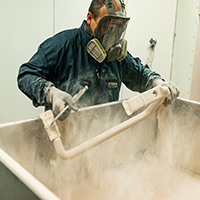 Design Considerations
Working side by side with its customers, Storm details the following guidelines when perfecting a component's design:
Storm Power sprays epoxy coatings thickness in the 10- to 30-mil range.  Please keep this in mind, especially when specifying thru hole diameters. Fluidized bed coverage is in the range of 30 to 120 mils.
The larger the bend radius the better - if allowable.  This will help the powder flow  more smoothly without build-up or thinning. Also, try to avoid small cutouts in the conductor, as they are more difficult to edge condition and could create areas for test failure. Always dimension designs to the bus bar, not the powder surface. And remember to carefully consider masking location tolerances.
Testing Criteria - If requested, a Hi-Pot test is performed to make sure the finished coating has no defects such as pin holes, voids and thin areas near sharp corners or edges. Surfaces will be scanned at twice the operating voltage plus 1,000 volts as standard procedure, unless otherwise specified.  For example, if the operating voltage is 700v,  Storm will test at 2400v. Storm currently tests up to 14000 volts.
Upon completion, our Quality Center team will thoroughly inspect the component(s) to ensure it meets your exact specifications.