Grounding Options for Bus bars
Braided Copper Connectors a.k.a. Flexbraids
OEMs often need to connect two independent, high-voltage systems where vibration is present. Storm manufactures standard and custom-sized flexible braided copper connectors with the precision necessary for both complex and routine uses. By using Storm's swaging capability, our machinists use high-pressure tonnage to cold press copper ferrules onto the ends of copper braids.
Flexible Copper Electrical Connectors Are Our Specialty
Our expert machinists understand flexbraid fabrication inside out. They know:
How tweaks to design can improve connections, even if they are on different planes, while minimizing the need for additional bent parts.
Precisely how to source and stock more than 25 different sizes of material to make ferrules.
Flow sophisticated CNC punching and milling machines create a more efficient and aesthetically pleasing flexible copper connector.
What it takes to expertly manufacture custom ferrules and crimp tooling.
Which plating method best fits your application.
Questions to ask in order to know exactly what specifications your flexbraid will require include...
What is the current-carrying capacity required?
What size of ferrules (landing pads) will be needed on each end?
Do you need round or flat braid material? Do you have a preference?
Unplated or tin-plated copper braid material?
How many braids will you need in the ferrule?
Does your application require the ferrule itself to be electroplated?
Do you know the hole size and pattern needed to bolt the braid?
What circular mils of braids do you think you will need?
Does the flexible braided connector need UL© certification?
PVC-Coated Flexible Copper Bus Bar
An alternative solution for tight bends and twists associated with cabinets, switch, and panel boards...
Storm Power's Flexible Insulated Bus Bar is made of stacked tinned-copper (bare by request) protected by durable PVC insulation. Available in 3 meter (3000mm) lengths and other custom cut lengths, this flexible bar is also fast and easy to install. It occupies less space, while reducing the use of excess copper; balancing the copper-to-current capacity by utilizing a protective, insulating PVC shield.
Because the internal copper layers are free to flex within the insulation, installers are able to twist and bend the bus bar into tight spaces within circuit or panel board assemblies.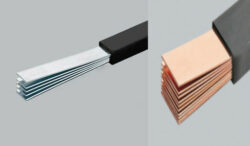 Unlike bent solid bus bar, flexible insulated bus bar can be punched or drilled after bending. All types of lug configurations are possible with less restriction to tolerances, making this remarkable bus a cost saving alternative to electrical cable with pre-set lugs.
Electrical Characteristics:
Dielectric rigidity of 20 kV / mm
Voltage rated at 1000 VAC / 1500 VDC
Temperature : 0 to 105 C°
UL Listed E197039.
IMPORTANT! Storm can also drill or punch holes, form (bend and shape) and custom-cut to any size you need.
For custom options please email or call us at 1-800-394-4804.
Laminated Copper Shunts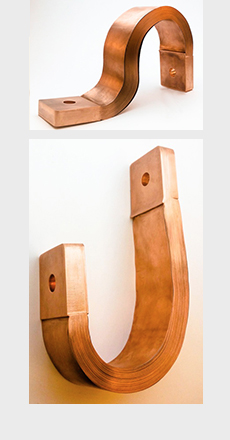 Storm custom manufactures copper laminated flexible shunts with resistance values on par with standard copper bar. Our shunts cover a full range of ampacity need; serving as an ideal solution for complex installations often with minimal space. Plus, laminated copper shunts are just as effective as rigid bar in preventing current imbalance and voltage loss.