Copper Bus Bar Electroplating in Tin, Nickel, Silver, and Lead
All too often electrical parts manufacturers send copper connectors to third-party electroplaters. The process can be lengthy and requires excess packaging, additional freight costs, lost time, and other hazards that commonly occur in shipping. When the plated copper components are returned for testing, even the slightest scratch in the plated surface can mean a failed inspection.
Since 1999, Storm has been electroplating right on premises. When you choose Storm to perform electroplating services, you'll regain control over quality, and mitigate exposure to extended lead times. We'll take the stress off so you can rest easy knowing that electroplating is being performed by experts well-versed in the intricacies of plating copper. We've got the right equipment and tank capacity to perform both rack and barrel plating, along with a variety of plating materials to meet the environmental requirements dictated across diverse industry applications.
Storm's Process Options

Electroplating
Electroless Nickel Plating
Storm's Proprietary Cyanide-Free B700 Silver Plating (Flashing)
Strike Plating—this is an ultra-thin coat of nickel, tin or other material that is applied before the final exterior plating finish.
Rack & Barrel Plating
Material Choices

Bright tin, Matte tin
Nickel
Silver - B700
100% Lead
Various tin/lead alloys
When manufacturing requirements demand plating of full production runs or single prototype parts, our bulk plating process allows us to handle it like a champ. You'll also benefit from our shorter lead times and the associated cost efficiencies resulting from zero set-up fees or minimum volume requirements.  We are plating all day, every day, so your parts will always fit right into our plating schedule.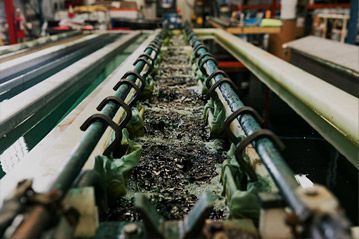 Full Immersion Electroplating
The anchor of Storm's electroplating process is extraordinary tank chemical titrations and solution maintenance. Together, this approach helps Team Storm provide a well-balanced and long-lasting plating solution.  Both rack and barrel options immerse copper components into an electrolyte bath that produces a uniform coating over edges and the rounded surfaces of bus bar holes and bends. Once plating is complete, components are inspected using precision technology equipment to ensure material composition and thickness meet your specifications.