Fiber Laser cutting technology
Lightning fast bus bar manufacturing
Your customer advantage starts with our beginning operations. Our laser cutting process is one of the fastest and most accurate systems anywhere. Far better material yields and speeds up to 3 times faster than traditional punch machines make laser processing the most cost-effective option in many cases.
Dynamic focus fiber optics guarantee the highest edge quality. Eliminating tool marks and maintaining edge quality are critical to reducing Hipot failure risk. Regardless if you need a simple bus bar, an epoxy coated bus bar, or an extremely complex laminated bus bar, Storm's laser cutting technology makes it possible.

Storm Power introduces one of the largest cutting beds in manufacturing today. Our custom built bed can handle parts up to 20 feet in overall length. Couple that with 6,000 watts of cutting power, our laser is a one-of-a-kind in the the Southeast.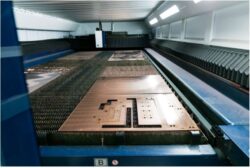 20' Cutting table.... no part is too big
Dynamic Nesting for increased material yields
Super fast cutting speeds up to over 500"/minute
Live monitoring for increased machine availability
Excellent part quality and seamless part removal Drop&Cut can easily re-prioritize your expedite
Latest software technology
Custom etching and part marking
6000 Watt power
Maximum Thickness

Copper/Brass ...... 10 mm
Aluminum ............ 25 mm
Stainless Steel .... 30 mm
Mild Steel ............ 25 mm