Electroless Nickel Plating – for maximum hardness
The term "Electroless Nickel" is not a generic name but a process of coating a metal component – like copper bus bar – with a nickel alloy. This unique form of plating eliminates the need to use electrical energy (electroplating) by incorporating a set of controlled chemical reactions stimulated by a catalytic reduction.
This reaction is caused by the release of a nickel salt and a reducing agent like sodium hypophosphate into a heated plating bath or an aqueous solution – in which the solvent is water.  Hydrogen, released during the reaction, then oxidizes; creating a negative charge that causes nickel ions and phosphorus to form on the surface of the metal component. At this point a complex agent is introduced to keep the nickel in a stable state, as the reaction runs its course.
Electroless Nickel Plating (ENP) produces a uniform and dense glasslike surface. By eliminating the use of electrical current, the nickel ions are able to accumulate evenly across the entire surface of a metal component, making ENP an ideal choice for copper busbar used where tolerance and precise fit are critical, as with multilayer laminations and power coated bus.
Electroplating produces an uneven surface caused by the inability of an electrical current to spread evenly around the surface of a plated component.
Without the use of electrical current, ENP offers precise coating tolerances. This even or uniform surface produces a harder, denser corrosion barrier – free of imperfections. ENP also offers the same advantages when plating complex components that have irregular shapes, threaded and unthreaded holes.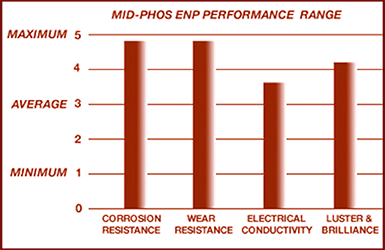 Storm's Electroless Nickel Plating 4-Part Process:

After careful surface cleaning, a copper ground bar is dipped in a controlled bath, consisting of a soluble nickel salt, such as nickel sulfate.
As the nickel salt mixes with the reducing agent, nickel and phosphorous ions start to form on all surfaces of the ground bar.
Buffers and neutralizing agents keep the nickel stable, while the ion coating bonds and then hardens into a solid, crystal-free surface.
The plated ground bar is now harder on the surface, more corrosion-resistant and able to withstand wear and abrasion. Further heat treatment will increase the hardness.
Storm can produce ENP in an accurate thickness range between 0.1 – 3.0 mils, determined by the metal component's need for corrosion resistance. Uniform tolerance is ± .00005.
Storm 's Electroless Nickel Plating is the most effective corrosion barrier used to seal electrical components from wear and environment. Electroless nickel creates an amorphous plating alloy that penetrates surface imperfections. Its smooth glasslike finish maintains lubricity between the original metal component and the plated surface that also prevents galling.
Currently Storm offers Medium Phosphorous ENP: to control a level of wear and corrosion resistance appropriate for electrical connectors like copper bus bar and other copper components. Medium Phosphorous or Bright High Speed ENP is a proven industrial coating comparable to stainless steel. Heat treatment hardens medium phosphorous electroless nickel as high as 68 Rockwell C-Scale: 150 kg.
Storm's ENP process is lead- and cadmium-free. Plating is done in a slope-bottomed polypropylene tank, where the aqueous solution is continuously pumped through a 5-micron filter and heated electronically.
Mobile users swipe ↔ to see full table

| Property | Range |
| --- | --- |
| Nickel Content | 92 – 95% |
| Phosphorous Content | 5 – 8% |
| Hardness: | |
| After Plating | 45 – 51 Rockwell Scale |
| | 500-600 Knoop Hardness |
| After Heat Treating | 64 – 71 Rockwell Scale |
| | 850-1000 Knoop Hardness |
| Rate of Plating: (µm/hr) | 12 - 30 microns |
| Density of Deposit | ± 8.1 grams per cubic centimeter |
| Abrasion and Wear | 16 – 20 Taber Wear Index |
| Electrical Resistance | 40 – 70 µOHMcm |