Silver Plated Copper Bus Bar - ASTM B700
Storm maintains an in-house plating and finishing subject matter expert (SME). Our electroplating professionals have been working to advance the field of plating and finishing for over 20 years, mainly in aerospace and defense. With level III non-destructive testing (NDT) certified personnel, we can ensure that every plating line at Storm maintains its ASTM compliance, especially regarding the relatively new ASTM-B700 silver plating standard.
Plus Storm now offers a safer option to traditional Silver Plating
Cyanide-Free Silver Plating or Flashing
Replacing the traditional cyanide electrolyte was one of the key objectives of this product development.
Additionally, this new product should deliver:
Excellent solderability
Good adhesion over Copper and Nickel (with strike plate)
Low contact resistance
Bright to Semi-Bright, white appearance
Wide operating window
High efficiency
CHARACTERISTICS

DOES STORM POWER'S SILVER PLATING TARNISH?
Yes, Storm's process does tarnish slightly more than with cyanide added plating. But this is a small price for environmental safety.
As in the case with other metals such as copper, aluminum, brass and magnesium, tarnishing is an inevitable result of the chemical reaction on the outer most surfaces of metal plating. Although the process is slowed down by incorporating cyanide into a silver plating process, tarnishing, eventually, will occur as evidenced in the photos below (for both plating types).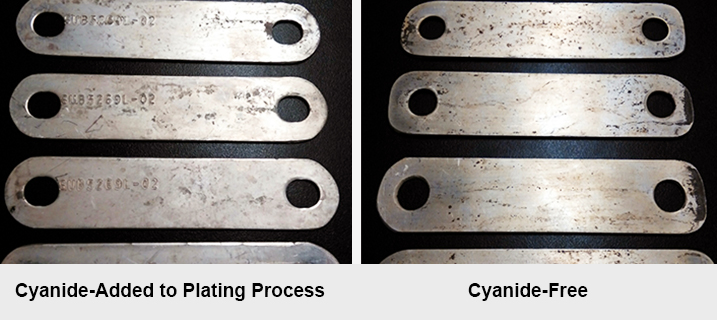 As you can see in the photograph to the right, the Storm Power parts do, in fact, have more tarnishing present. However, it is also evident that the silver cyanide parts also have tarnishing in the form of the dark speckles and an overall darkening of the parts.
In addition to the environmental and safety advantages, replacing the traditional cyanide electrolyte with the proprietary compound used in Storm's ASTM B700 silver plating process results in direct performance advantages.  For instance, the results of our cyanide-free silver plating exhibit a higher micro hardness and a lower wear rate than traditional cyanide-inclusive silver plating.  Our cyanide-free silver plating maintains excellent solderability, low contact resistance, and good adhesion over both copper and nickel strikes, which is paramount since the new ASTM B700 certification now mandates a nickel strike prior to the silver application.
Cyanide-Free vs. Std. Plating
HARDNESS & WEAR RATE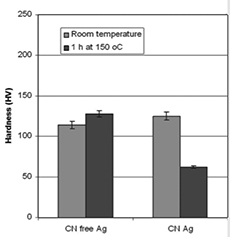 Nano-Hardness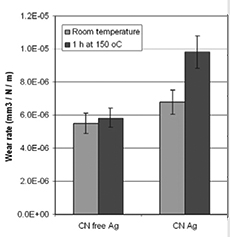 Wear-Rate